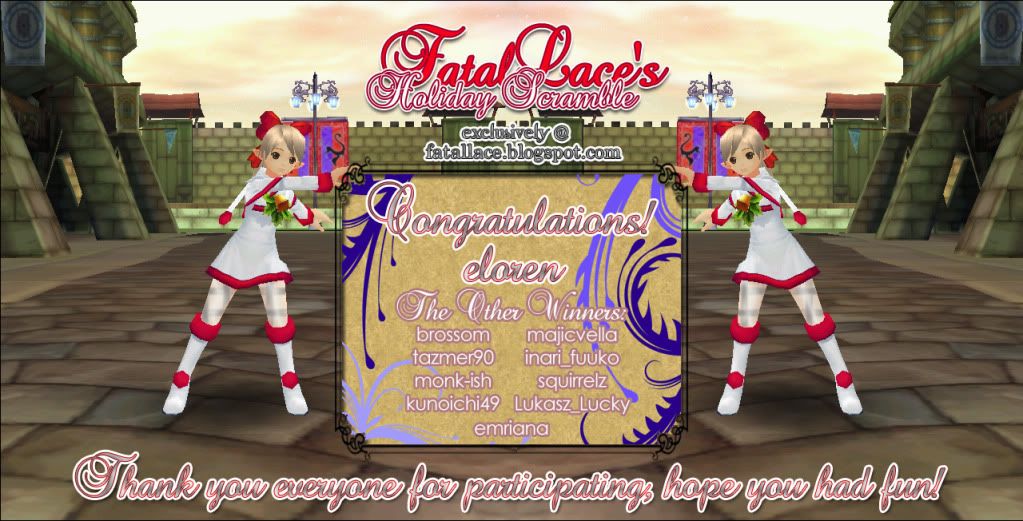 First off, I wanted to thank OutSpark for allowing me to host one of their sponsored events. It was a tremendous honor, and I do hope that my first event met or exceeded expectations! I'm really looking forward to my second event one week from today!
The first correct entry was sent in by
eloren
. Congratulations!
Winning entries #2-10 were:
brossom
tazmer90
monk-ish
kunoichi49
majicvella
inari_fuuko
squirrelz
Lukasz_Lucky
emriana
eloren will be receiving the 30-day White Holiday Outfit, while the other 9 winners will receive the 7-day versions.
(Edit 12/20/2010 - Event's long over so I minimized the posting to make navigating my blog easier. You can still view the full posting by clicking the 'Read more' link just below.)
So for those of you who participated here are the answers:
Stockings
Christmas
Saint Nick
For those of you that couldn't find all of the images, here they are:
So what did you guys think? Was the event too difficult? Just right? Too easy?
Judging by the answers I received, it seemed about right where I wanted it to be. I received a lot of entries that had "Priesteen" as the incorrect answer for pine trees. While, yeah priesteen is a word that has religious connotations, it wasn't what I was looking for. I'm guessing all of you that came up with that use some sort of Anagram solving website! Well, the answer for that was pine trees, sorry!
Below is a screenshot of all of the winning forum PMs that I received. Thanks for not sending private messages to my main forum account! There were 24 correct entries mailed, I deleted the incorrect ones.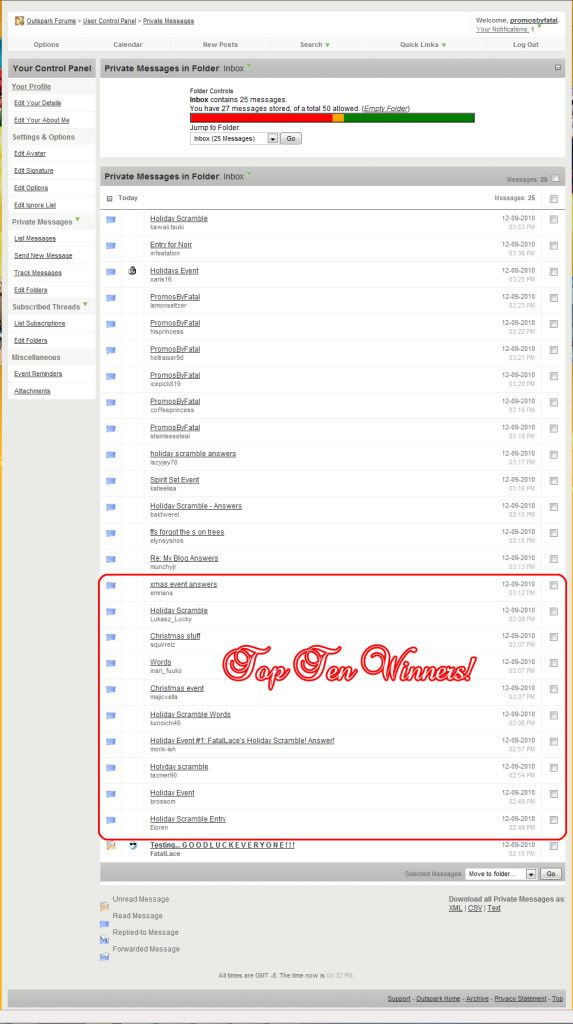 The one thing I couldn't really do was discriminate between main and alt accounts. Had this been a contest of my own, perhaps I could have established some firmer ground rules and qualifiers, but since this was an OutSpark sponsored event, I let it go. A few of the entries, however, looked awwwwwwwwwfuly similar! Oh well, I do hope you guys had a good time rummaging through pages and pages of my blog, and hopefully some of you first time visitors will stop by from time to time.
Please do leave comments (good, bad and constructive) about the event in this posting. Thanks again everyone! One down and one more to go! Check back in next week, same time!