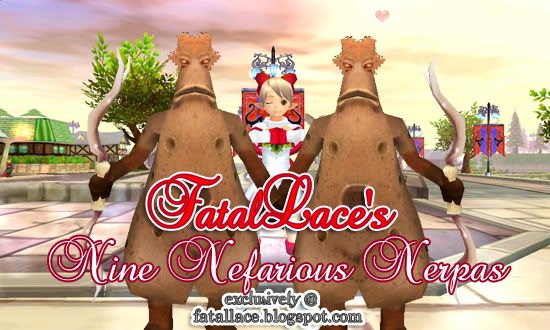 Hey Everyone!
Welcome to my second Holiday Event, sponsored by OutSpark, another leg in the 'Christmas Spirit' set of events to celebrate this holiday season. If you're at all unfamiliar with the Christmas Spirit Events, you can
view the announcement here
. Also, if you wanted to see what you, and everyone else, has already collected, you can
view that here
.
(Edit 12/20/2010 - Event's long over so I minimized the posting to make navigating my blog easier. You can still view the full posting by clicking the 'Read more' link just below.)
Alrighty, so formalities are out of the way... here are the details:
In a blog posting that will magically arrive on
Thursday December 16th at 2:30pm OS/Forum Time,
you will find various pictures of my Nine Nefarious Nerpas. You will be given a short bio to read about them as well as how many letters are in their name represented by the dashes above their heads. Here's one clue,
all of their names will begin with the letter "N"
and
additional letter hints will be given.
All of the pictures and biographies are in one blog posting, you do not need to go hunting from them like the last event.
Easy right?
Once you've collected all nine of my Nefarious Nerpas names, send a forum private message to 'PromosByFatal', the first 10 players with the correct names will receive a prize. The first person will receive a 30 day White Santa Hat, correct responders 2-10 will receive the 7-day variant.
Please send your entries from the SparkID that you wish to be awarded on. Please do keep in mind that my mailbox is limited to only 50 messages, so responding quickly, and correctly(!) will be key! If you do not know how to send a forum Private Message, please view this guide.
Send all names/answers at one time, and yes, spelling does count.
Do not send multiple entries with corrections. Think your entry through thoroughly before you submit it. Multiple entries will be disqualified as they take up precious inbox space.
Here is an example of what you will be seeing on Thursday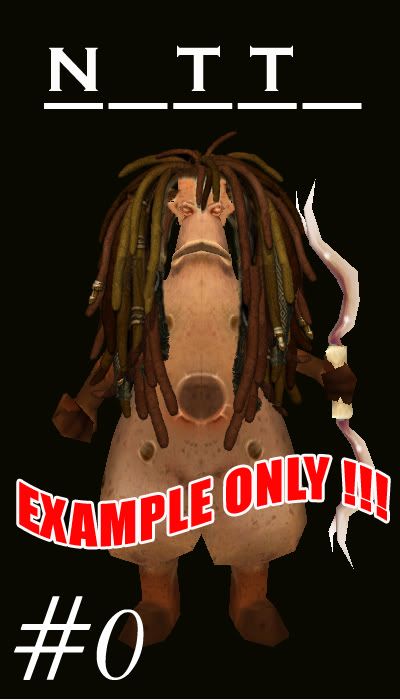 Nerpa #0
---- Nerpa (5 letters) enjoys skanking to the smooth reggae rhythms. Kicking back with a Red Stripe and lobbying for the legalization of recreational drug. His favorite musicians are Bob Marley and Pato Banton. When entering Dragon's Tomb, he's usually the case-of-the-munchies-suffering, bloodshot-eyed Nerpa appearing from a cloud of smoke.
Alright, so from the picture and the bio, knowing that there are 5 letters and with the letter hints given, you can conclude that the answer for this one is:
"
Natty
" Nerpa
This one was probably the hardest of them, so I made this the example. If you had no knowledge of Reggae music/culture, then it may have been really hard.
If you guys have any questions about the event, now is the time to ask them! If you do have a question, please add it as a comment, and not to the message board. Thank you!