The names alone recall hours upon hours of torment and frustration... With each name, a shiver runs down your spine... Karasian's Hair, Bright Golden Bat Hair, Dark Crystal of Ratman Knight, Linous Horn, Phouch's Needlecoat, Gleaming Orb, Music Box, Ruby Guardian's Hair, Fragment of Memory, Luna's Breath..
Brings back painful memories doesn't it? And for those of you that yet to experience these quests, I wish you the best of luck.
So as I sit here waiting on a couple of Living Stones to respawn, it got me thinking... "What are your worst Fiesta quests?" Were they listed above? Maybe you just dread repeatables?
Werebear Armpit Hairs? A Piece of a Mimic Box?
The quest that's driving me particularly batty today, "Ancient Bow", only requires me to retrieve 5 Living Statue's Bows from those mobs in Temple of Spirit. Easy right? Wrong.
A couple of things factor into the madness of this quest. 1) There are only maybe 8 of these mobs on the entire map and they are widely spaced so AOE'ing them is not an option and 2) The drop rate is just atrocious. This quest literally took me about 2 hours on my SharpShooter to get those 5 drops, and with 3 out of my 5 in the bag on my Warlock, it's looking to be the same. This is now the third time I've made my way into Temple of Spirit to get this quest done.
I could deal with a bad drop rate if at the same time I could rack up decent experience from just killing the mobs via AOE, but sadly, this isn't the case here. The best spot I've found for this quest is simply in the entry hallway in TOS. There are two mobs here, but again, they're spread apart and u have to kill them individually. The respawn rate is decent like most of the higher level maps, but still @ 23k EXP per mob on 100% EXP Boost, it's slow going.
But with patience and perseverance, you get rewarded. Elapsed time on this quest... about 2 hours 30 minutes. *Sigh*.
So now that your quest is done, it's time to head back to town and hand it in...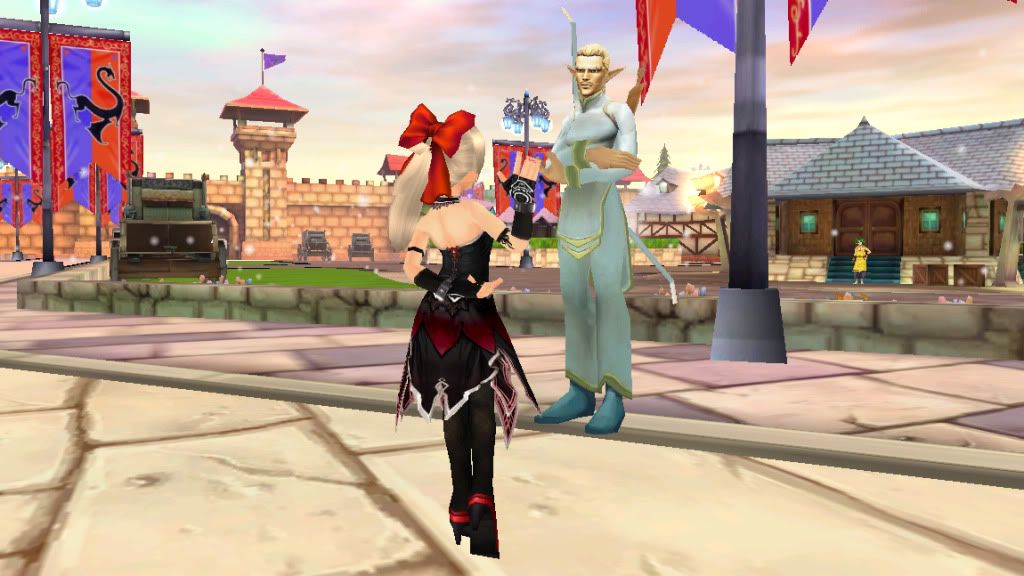 "Why hello Master Deikid, I've recovered the bows you requested... follow me, won't you?"
"I had to hide them..."


"Oh, they're not much farther..."


"Ah, that was soooo worth it.... *muah*"
So what quests brought you to the brink of insanity? Leave me a comment and share your experiences!