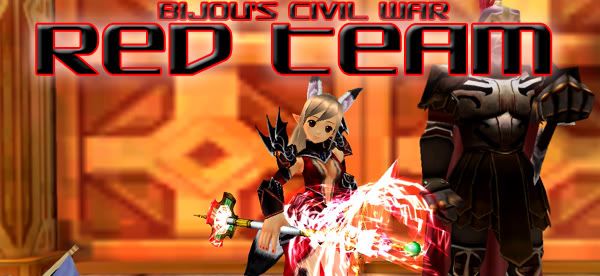 Greetings Adventurers! War is upon us, but this time, the conflict is from within.
A series of skirmishes is set to take place starting
Saturday September 17, 2011
. There will be four battles daily between three guilds: Red, Blue, and Green.
The Blue and Green teams are scrambling to round up fierce combatants to take us down! We must prepare for this assault! The Blue team is led by ChaseNetwork, the Green Team by OMG_ITS_JEMMY.
Level Limits: 20-34.
SparkCash: None allowed (See original post
HERE
)
I'm still looking for able-bodied, reliable Admins to serve with me and wage war at the designated times since I will be unable to attend all scheduled battles.
Again, these series of wars are just for fun, it's meant to be non-competitive. Hopefully, it's something everyone can participate in when they have some free time on Saturdays.
If you would like to participate or volunteer for an admin position, please let me know ASAP. I have a small cache of gear available, nothing great, just stuff I farmed out of Marlone Hideout. First come first served on that.
Red Team
LegendaryFatal (GM)




If any of you plan to use a beauty shop coupon for this, I HIGHLY encourage you to use RED HAIR. If not, that's okay too. =)