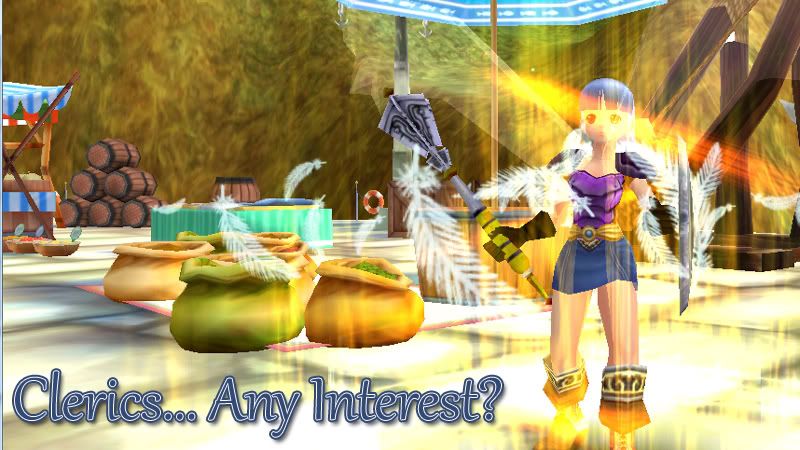 Well I've covered pretty much all classes so far except for those backline healers known as Clerics. While I don't have a particular fondness for playing this class, if there is interest in Cleric-based material, I'd be willing to write some things up.
If the interest is there, what would you like to see from me on this class? I've already shot video of me Clericing a Mara KQ on the character pictured above, will probably upload that sometime today. Watching that video though, it's quite boring. I played the role of full-support, just hanging back, healing my party or whoever had aggro around me... I didn't swing my Mace a single time. But is that at all interesting?
I can probably make it up to Mini Dragon or even Crystal Castle without too much problem and not too much effort since I can powerlevel myself fairly easily, a 107 SharpShooter works well for times like these (*wink*). But again, wanted to gauge interest before I invest the time and a bit of SparkCash into doing so.
So anyway, let me know your thoughts. I really don't want to activate stuff on my HolyKnight to do LN or SL runs, and watching me heal an AOE Black Bear Party or bashing on Mimics isn't exactly interesting either.
Please post a comment here, positive or negative. I really don't enjoy playing support, but I'm willing to do so for you guys if you think it's a good idea. I'd mostly be doing the same stuff as my Project: Tank series of videos, minus the CC-Solo.