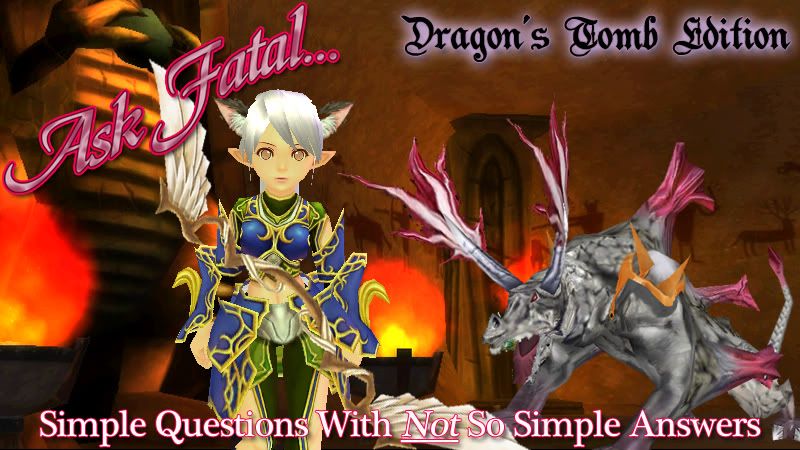 Finally, the wait is over, the Archer installment of this guide is complete! It took me THAT long to get a party! Haha just kidding, but you Archers out there can feel my pain. (Screenshots to come, ran out of time today)
First off, I wanted to thank angel61636 for helping me start a party and sticking by me when the party started falling apart. She could have left for other parties that required a Tank, but she stayed by me. I never revealed to her who I was, so that makes what she did for me even more heartfelt. Thanks again.
So let's get started! First question!
Q: Fatal, why should I party an Archer when just about any other class would make a better choice?
A: This really depends on the make up of your current team. An Archer can never take the place of an elite Mage, no matter what, but as a secondary Damage Dealer, an Archer can be an excellent choice.
Q: I'm still not convinced, why not use another Mage?
A: This is where it gets a bit tricky and subjective. A superior/elite Archer can really set the pace in Dragon's Tomb. An Archer of lesser skill should not. The Archer needs to know what to pull, how many to pull, and understand aggro in relation to the backline. While the Tank is pefectly fine as a pace-setter (see my DT: Tank guide), if the Archer is of high enough skill, the overall pace of a complete Dragon's Tomb run will be faster.
Q: Okay, so what should an Archer do to set the pace?
A: Just because an Archer is primarily a backline player doesn't excuse them from scrolling up and doing work. In my case, this includes the use of speed scrolls. If the Archer is intent on setting the pace, she needs to go out ahead of the party and start luring back to the main party via kiting. However, the Archer needs to get a feel of what the Tank and the rest of the party is capable of handling. For me, I take the first half of the first DT run to kind of sit back and evaluate the rest of my party. I see how the Tank pulls, what the Tank misses aggro on (oftentimes the ranged mobs), and to get an idea of how active the Mage is. Keeping an eye on the Cleric's positioning is also important.
Q: Once you have that, you're good to go?
A: For me yeah, I'm extremely comfortable giving myself an honest assessment of my skill and limits. Having now observed the rest of the party I can start getting more aggressive. After dispatching the second "boots" miniboss (Magmaton/BigMudMan), I take off for the next area ahead of my party, immediately start luring the Gargoyles, Flame Spirits along the way and then grabbing the Krugers and Caravans in the next area heading towards the "pants" minibosses.
Q: Hmm, okay I get it, you kite them then what?
A: I'll pull them all back to the party as they make their way to the "pants" path. I immediately pull into the Fighter. You have to be careful here though, oftentimes a single Mock isn't enough for the Fighter to establish aggro control over your mobs since you've build up a lot through kiting. Once the Mage drops AOEs, you need to, just like a Mage does, start running tight circles around that AOE area.
Q: Wait, I'm used to straight-line kiting, I need to run circles like a Mage?
A: Yes.
Q: And the reasoning for this is?
A: You need to optimize damage and aggro recovery for your party. Pulling your kited mobs down the hall does nobody any good. You're pulling away from the party, the Fighter has to chase and is unable to effectively regain aggro, especially if you're booking it away from him on a speed scroll. Running tight circles allows you, along with the Mage, to inflict as much damage on to those mobs as possible. It also increases the Fighter's chance of regaining aggro and landing an effective Devastate to stun all those mobs.
Q: Hmm interesting. So what about ranged mobs?
A: Ranged mobs are a bit tricky. Again, this goes back to your Tank. If your Tank doesn't properly establish aggro on the ranged mobs, it's up to you, the Archer to do so before the Cleric starts getting hammered. Ideally, you establish aggro early and pull those ranged mobs back into the pile of melee mobs that the Fighter is controlling. The Fighter can attempt to establish aggro on the ranged mobs, but is more likely to just stun them with Devastate. By then the Mage AOEs will have probably wiped them out. Just like a Mage, an Archer is excellent at outrunning Nerpa's Slow Arrows when a speed scroll is active.
Q: Any other thoughts on setting the pace?
A: Yes. While we, as Archers, can be extremely helpful at setting a fast pace through Dragon's Tomb, you may run into players that just don't see it that way. The Tank, or oftentimes the Cleric, may tell you to slow it down or just, "cut it out you freakin' noob!", but don't get discouraged. Again, this goes back to a little bit of ignorance as far as what an Archer can actually do for a party in DT. I would relent, have the Tank set the pace and you can work within those boundaries. It makes your life a lot easier honestly. Players often fear the unknown, they fear change, so something like an aggressive, capable Archer throws them out of their comfort zone, but understandably so. As your party gets more familiar, keep pushing the boundary that your party has set, but not so much that you get kicked out!
Q: What are some other roles or tasks an Archer should be used for?
A: Archers are great at pulling the mobs that inhabit a miniboss room also. With the targeting reticle for their AOEs, it's easy to safely pull those suckers out without activating the miniboss. Once pulled, just simply lure those mobs into the path of the Tank so he can Mock and the party can finish them off.
Q: Okay, so Cornelius... now what?
A: As far as positioning goes, the Archer should have the same thought process as the Mage. Do not stand next to the Cleric. Stand off to the side, within healing distance of the Cleric, but not so close that Corny's charge attack wipes you both out. Archers, and Mages, should ALWAYS immediately target the summoned mobs once they appear. Let the Tank continue to pound away at Cornelius while you take out the Shellas and Nerpas. If you have aggro on all of the Shellas, go ahead and kite them away or preferably run them back into Cornelius where the Mage can drop an AOE on them.
Q: Help! My Tank got feared and I have aggro! I'm outta here!
A: NO NO NO! Just like the Mage, running for the exit is NOT an option. You need to do one of several things depending on the situation. If the Tank is dead, then you need to kite Corny away from the Cleric and the dead Tank so that the Cleric can revive the Tank. Once the Tank is back up and ready, head back to the Tank, allow him to Mock and Kick him then cast a Nature's Protection to aid him in re-establishment of aggro. If the Tank was simply Feared and you ended up with aggro, head back to the Fighter, stay within Kicking/Mock range and slow down your attacks. You don't want to completely stop as Cornelius may target the Cleric, but you want to slow down your attacks enough so that the Fighter isn't struggling battling you for aggro either.
It is difficult for an Archer to pull sufficient aggro once Cornelius has targeted the party's Cleric. The Cleric is typically in panic-mode, spamming all manner of healing skills amplifying their aggro. Your damage simply can't keep up with that, best thing to do is just keep at it and hope the Tank recovers in time.
Q: That gives me a better idea of what to expect out of an Archer for DT, thanks! Any last pearls of wisdom?
A: You're welcome, and yes. As with any class or role you play, you need to take a serious, honest look at how well you handle your responsibilites in any given situation. While it's easy for us to think we're of an elite skill level, sometimes we just aren't. The sooner you come to grips with that, the better off you'll be. When you lower your pride, the learning process begins. Your eyes will open and you'll start to observe things more clearly. Other people are counting on you to handle your role effectively in instance dungeons, when you can't the whole party suffers. In the case of Archers, we already have a tough time finding a party, when others experience an unskilled Archer just breezing through DT on other people's hard work, that really puts a sour taste in their mouth and they won't give another Archer a chance, but the opposite is also true. Be the example, not the excuse.
One last thought:
As you guys know, I've taken every class now, including Tricksters (guide forthcoming) through Dragon's Tomb, so I've seen all sides. This gives me the best perspective on how to do things the right way here. If you're a first-time DT'er, take it slow. Reading through my guides can help you, but they don't replace actually experiencing the dungeon first-hand.