Hello Isyans!

So far the past month since I've returned has been great!

I'm settling back into the swing of things, catching up with old friends and making lots of new ones.

Unfortunately, I seem to be spending more time chatting than actually grinding!
So I logged in earlier this month and lo and behold a cutesy little slime icon appeared on the bottom of my screen!

I clicked it and a calendar appeared with some empty spaces and enticing looking present boxes at the end of each week.
I was actually quite surprised at the interface of the calendar; it's attractively designed and easy to understand.

Since this was my first attendance event, I did not know what I had to do to fulfill the requirements of being counted.

How long did I have to stay online?

Do I have to gain EXP?

Since I didn't want to ask... I just kinda stood around and went about my usual business.

Turns out you just need to be online for 1 consecutive hour, easy enough.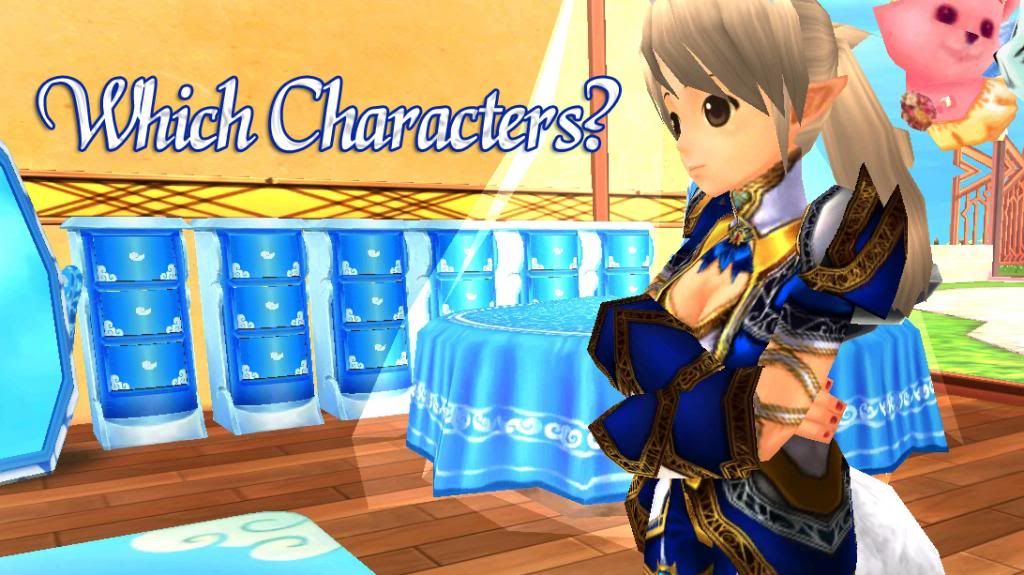 And now the dilemma, how many characters am I going to actually try to do this event on?

How will I keep track?

And what am I going to do for an hour on all those characters? Well first thing was to prioritize, without knowing ahead of time what the prizes would be, I figured I'd let those characters most likely to be used in the near future have highest priority.
After all was said and done, I attempted the event on 13(!) different characters with varying levels of completed attendance.

Of the 13, four were online for all 28 days, six claimed the prizes for 24 days of attendance, and three finished with the 20 day box.

I'm a sucker for free stuff, sue me.
So what was received?

Here is the comprehensive list taken from the forums, originally posted here.
Minimum Prize: Red Menian Top (7 days)
Other Possible Prizes: Tiny Voices Pet (1 day), Mouse Ears (7 days), FrostBite the Stag (7 days)
Minimum Prize: Red Menian Pants (7 days)
Other Possible Prizes: Kaffoo Costume (1 day), Green Dragon Tail (7 days), Small Box (7 days), Secretary's Nightmare Minihouse (7 days)
Minimum Prize: Blue Menian Top (7 days)
Other Possible Prizes: Jewel Carrot (1 day), Tik Tok Pet (7 days)
Week Four:
Minimum Prize: Blue Menian Pants (7 days)
Other Possible Prizes: Revolutionary Steampunk (7 days), Killer Bee (7 days), Captain Wheels (7 days)
20 Days of Attendance: Puppy Ears (7 days), Peacock Tail (7 days)
24 Days of Attendance: Elvis Hair (7 days), Sonia the Snow Leopard (7 days), Epith's Box (7 days)
28 Days of Attendance: iGlasses 3000 mk2 (30 days), Tofu Mini House (30 days), 20% Charm of Might (6 units), Imperial Gala (30 days)
That's a pretty nice haul considering you only needed to be online for an hour or so each day.
There were a few bumps in the road that hopefully will be smoothed out the next time Gamigo decides to roll this event out. 2 days were messed up when the switch to daylight savings time in the US occurred. Another day was lost later in the month for no apparent reason. On both occasions, attendance was restored for those affected days for everyone. Honestly, that was the only right course of action, I just wish the GMs would address the issue sooner with an announcement of what will be done to correct the issue. Some players may have given up on the 28 day prize when that first error occurred.
However, fun event aside, but it's stuff like this that irritates me:
I know the term "fail" has caught on like wildfire on the interwebz, but to automatically brand something as a "fail" because of a few issues is extremely mean-spirited. People behind the scenes worked hard to plan and execute this event for the masses and it went off without much difficulty. Issues that did come up were addressed and handled. It's really cruel to just throw that word out there, even in jest. So please, unless you're participating in self-deprication, go easy on the term.
So anyway, how did I spend all that time? Well let me tell ya!
The Hidden Side-Benefits of Attendance Events
.... And Some of the Drawbacks of Attendance Events: